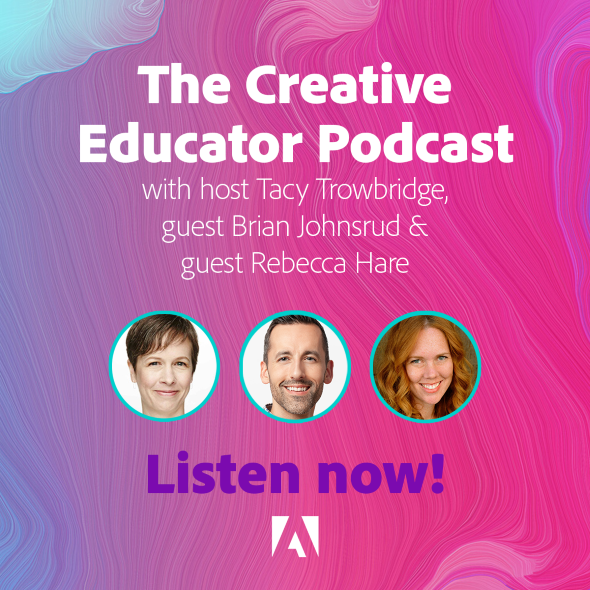 In the final installment of our three-part series reflecting on the past year, Tacy is joined by Adobe Education Curriculum Lead, Brian Johnsrud, to discuss ways to implement lessons learned. They discuss how to build community, apply creative instructional strategies that inspire student agency and instill a love of learning itself. 
To wrap up season one, Tacy also invites back design consultant and educator, Rebecca Hare, who shares an easy, creative project that taps into what inspires teachers and setting intentions. She encourages them to identify what matters most and hit reset. With an eye to the future, Tacy's guests offer an optimistic outlook and tools for reflection to help educators start the new year feeling more grounded and refreshed.
Connect with Tacy on Twitter @tacytrow, Brian Johnsrud @brianedtech and Rebecca Hare @RebeccaLouHare. Also please share your ideas for future episodes and guests.
We'd love to hear from you at creativeedu@adobe.com. 
Resources:
To explore Brian's quick ideas for inspiration, check out free, ready for the classroom resources that combine Khan Academy content with creative activities.

Teach Creativity with Adobe & Khan Academy | Adobe Education Exchange.

Try a short creative project by remixing your own "Inspiration" poster

here

.

Find Rebecca's book,

The Space: A Guide for Educators

at her

website

, and her conversation with Tacy on episode three of The Creative Educator podcast.